Afghanistan's Parliament Seeks To Calm Riot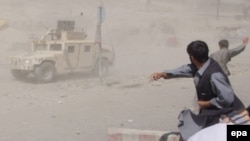 Demonstrators throw rocks in Kabul today (epa) PRAGUE, May 29, 2006 (RFE/RL) -- Afghanistan's parliament has called for calm after protests reportedly prompted U.S. and Afghan security forces to open fire on civilians in Kabul today.
The demonstration was sparked by a traffic accident in the Afghan capital involving a U.S. military convoy.
Reports say at least one person in the accident. It is unclear how many casualties there may have been during the subsequent demonstrations.
The Afghan parliament suspended on its session on hearing of the incident, and sent a team to investigate the situation.
Parliament speaker Mohammad Yunos Qanuni urged protesters to be patient and let the government handle the situation.