Brazilian Author Completes Cross-Siberian Trip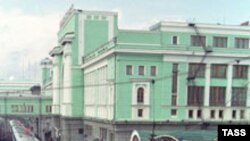 Novosibirsk, one of the stops on Coelho's journey across Russia (file photo) (ITAR-TASS) May 30, 2006 – The bestselling Brazilian author Paulo Coelho has completed a two-week train journey across Siberia, a journey that he has called a spiritual pilgrimage.
Coelho's 9,000-kilometer trip took him to Yekaterinburg, Novosibirsk, Krasnoyarsk, and Irkutsk before ending in Vladivostok on the coast of the Pacific Ocean.
Coelho dedicated his trip to Aleksandr Solzhenitsyn and his book "The Gulag Archipelago."
"I hope the terrible times this Russian writer described never return," Coelho said.
(AFP)



UPDATED CONSTANTLY: Visit RFE/RL's Russian-language website, featuring news, analysis, features, streaming audio, and more, in Russian, from RFE/RL's Russian Service.
ARCHIVE
RFE/RL's English-language
coverage of Russia
.