Rice's comments come after the June 1 announcement of the package at a meeting in Vienna of the five permanent UN Security Council members plus Germany.
Rice, in a series of taped interviews with U.S. media, declined to specify a deadline, but said Iran had a "matter of weeks" to deliver a definitive response to the proposal.
Russian Foreign Minister Sergei Lavrov said he was optimistic that the plan would lead to an agreement with Tehran.
"We hope Iran will respond to this appeal and will sit down to the negotiating table," Lavrov said.
Speaking in Moscow upon his return from Vienna, he said no deadline had been set for Iran to reply to the proposals.
German Foreign Minister Frank-Walter Steinmeier said he was hopeful the Iranian side will have a "positive approach" to the offer.
(compiled from agency reports)
Ahmadinejad's Letter To Bush
Ahmadinejad's Letter To Bush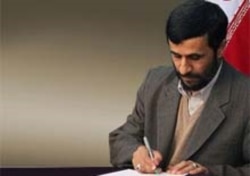 (Fars)


PRESIDENT TO PRESIDENT: On May 8, the Iranian government announced that President Mahmud Ahmadinejad had sent a letter to U.S. President George W. Bush. The letter was the first direct communication between leaders of the two countries since Iran's 1979 Islamic Revolution. RFE/RL has posted the English version of Ahmadinejad's letter that was posted on the Iranian president's website.
"The people will scrutinize our presidencies," AHMADINEJAD wrote. "Did we manage to bring peace, security, and prosperity to our people or insecurity and unemployment? Did we intend to establish justice, or just support special-interest groups and -- by forcing many people to live in poverty and hardship -- make a few people rich and powerful, -- thus trading the approval of the people and the Almighty for [that of those few]? Did we bring the world peace and security or did we raise the specter of intimidation and threats?"...(more)
ARCHIVE
For an archive of RFE/RL's coverage of Iran, click here.


THE COMPLETE PICTURE: RFE/RL's complete coverage of controversy surrounding Iran's nuclear program.
CHRONOLOGY
An annotated timeline of Iran's nuclear program.