Montenegro Declares Independence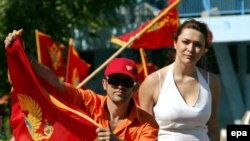 Supporters of Montenegrin independence wave Montenegrin national flags (file photo) (epa) June 3, 2006 -- The parliament of Montenegro met today to adopt a declaration of independence, two weeks after the republic voted to separate from Serbia.
Lawmakers confirmed the official results of the May 21 referendum, which saw 55.5 percent of voters say "yes" to an end to the republic's loose union with Serbia.
Serbia and Montenegro were the last two former Yugoslav republics to remain together in a union after the former Yugoslavia broke up in a series of wars in the 1990s.
(dpa/AFP)

SUBSCRIBE
For a regular review of politics, media, and RFE/RL broadcasts in the western Balkans,
subscribe to "RFE/RL Balkan Report."