Kyrgyz, Afghan Ministers Discuss U.S. Air Base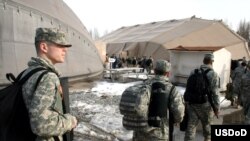 U.S. troops at Manas Air Base on their way to Afghanistan (file photo) (USDoD) June 5, 2006 -- Kyrgyz Defense Minister Ismail Isakov today briefed his Afghan counterpart on last week's Kyrgyz-U.S. talks over the military air base the Pentagon maintains in his country.
Isakov told Abdul Rahim Wardak over the phone that the consultations took place "in a benevolent and constructive spirit."
The United States has been maintaining an air base in Kyrgyzstan since 2001 as part of its operations in nearby Afghanistan.
Kyrgyz President Kurmanbek Bakiev has recently warned Washington that it should pay much more for the use of the facilities or leave the country.
The two sides last week met in Bishkek to discuss Bakiev's demands. The talks ended inconclusively, with the U.S. delegation returning home for consultations.
Bakiev today said the negotiations should be completed "soon" and pledged they would "take Kyrgyzstan's economic and ecological concerns into account."
(AKIpress, Kabar)