Chechen Resistance Names New Leader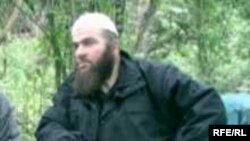 Doku Umarov in June 2005 (RFE/RL) June 19, 2006 (RFE/RL) -- Chechen field commander Doku Umarov has been named head of the Chechen resistance movement and the self-proclaimed Republic of Ichkeriya, RFE/RL's Russian Service reported.
Unnamed representatives of the separatist government confirmed the appointment.
Umarov succeeds Abdul-Khalim Sadulayev, who was killed in an operation by Russian special forces in Argun on June 17.
Umarov previously served as commander of the southwestern military sector and as Sadulayev's vice president.
MORE: To read RFE/RL Russian Service's coverage of this topic in Russian, click here and here.


RFE/RL's complete coverage of Russia's war-torn Republic of Chechnya.
CHRONOLOGY
An
annotated timeline
of the Chechnya conflict.