Two U.S. Soldiers Charged In Civilian Killings In Iraq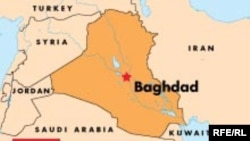 (RFE/RL) June 25, 2006 -- The U.S. military has said it has filed charges against two soldiers for the killing of a civilian near the Iraqi town of Al-Ramadi in February.
A statement released late on June 24 said Specialist Nathan Lynn is charged with voluntary manslaughter for allegedly shooting an unarmed Iraqi civilian.
Sergeant Milton Ortiz and Lynn are charged with obstructing justice for allegedly putting a weapon near the body to make it appear the civilian was an insurgent.
(Reuters, AP)