A ministry statement posted on the official turkmenistan.ru information website said the Ukrainian delegation was expected to leave the Turkmen capital later in the day.

Turkmenistan is offering to sell gas to Ukraine at a price of $100 per 1,000 cubic meters starting from October 1, 2006.
Ukraine's Naftohaz Ukrayiny in turn says that under a 2005 bilateral agreement, Ashgabat committed itself to sell its gas at a price of $60 per 1,000 cubic meters until the end of this year.

Ashgabat says that prior to signing a contract for deliveries in 2007 it wants Kyiv to make sure that Russia's Gazprom will let the gas transit through its pipeline network.

The Turkmen Foreign Ministry also says Ukraine today pledged to pay off its $64 million debt for earlier gas deliveries in September.
The Turkmen-Ukraine setback comes one day after Turkmenistan's Foreign Ministry warned in a statement after a suspension of talks on gas deliveries to Russia that supplies to Gazprom would be cut off in September if Moscow and Ashgabat failed to reach a new import deal. That deal appears to hinge on Turkmen price demands.

(with additional material from Interfax-Ukrayina)
MORE: For an analysis by RFE/RL's Daniel Kimmage of the Turkmen gas trade and current tactics, click here.
Central Asian Cinema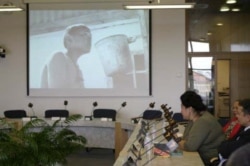 Gulnara Abikaeyeva's June 29 presentation in Prague (RFE/RL)
EAST OF THE WEST:
On June 29, RFE/RL's Prague broadcasting center hosted a presentation by
GULNARA ABIKEYEVA
, director of the Central Asian Cinematography Center in Almaty, Kazakhstan. Abikeyeva is a leading expert on Kazakh and Central Asian cinema, a chairwoman of the jury of this year's East Of The West section of the Karlovy Vary film festival. Abikaeyeva gave an overview of major trends in Central Asian cinema since the 1960s. Abikeyeva has just completed a major DVD collection of the most popular films of the five Central Asian countries and is now beginning work on a similar collection of Central Asian documentaries.
LISTEN
Listen to the complete presentation (45 minutes):

Real Audio
Windows Media
Other Articles On Central Asian Culture:
Silk Road Revival Grows As More Sites Protected
Central Asian Directors Discuss Issues Behind The Camera
Ancient European Music Meets Central Asian Masters
Central Asian Masters Revive Old Ways Of Teaching Traditional Music
ARCHIVE
To view an archive of RFE/RL's reporting on culture throughout its broadcast area, click here.


THE COMPLETE STORY: Click on the icon to view a dedicated webpage bringing together all of RFE/RL's coverage of Kazakhstan, Kyrgyzstan, Tajikistan, Turkmenistan, and Uzbekistan.