The EU said the talks in Brussels produced no result. The EU has been urging Iran to accept an international package of incentives intended to persuade Iran to suspend efforts to develop its nuclear program.
The EU also rejected Iranian assertions that it had failed to clear up questions about the package.
Iran's top negotiator, Ali Larijani, said after the talks that negotiations would be a "long process," but he said he saw "no reason to be skeptical" about the outcome of negotiations.
He said Iran wants "to allow more time for negotiations" and said that "a supportive round must be held for confidence building."
EU foreign policy chief Javier Solana is due to report on the talks to EU foreign ministers in Paris on July 12.
(AFP, Reuters, AP)

What The Street Thinks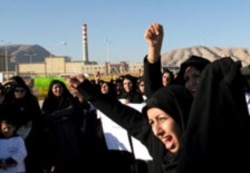 A demonstration in support of Iran's nuclear program outside the Isfahan uranium-conversion facility in Isfahan in January (epa)

IRANIANS SPEAK OUT ON THE DISPUTE: To find out more about what Iranians think about the international controversy over their country's nuclear program, RADIO FARDA asked listeners to express their views....(more)
See also:
Iran: Public Has Mixed Feelings On Nuclear Issue

THE COMPLETE PICTURE: RFE/RL's complete coverage of controversy surrounding Iran's nuclear program.
CHRONOLOGY
An annotated timeline of Iran's nuclear program.