Israeli Foreign Ministry spokesman Mark Regev told reporters in Jerusalem today that the offensive comes after a July 31 decision by the Israeli Security Cabinet.
"The Israeli Security Cabinet, meeting in special session, decided to step up our surgical ground incursions into southern Lebanon in order to deal with those Hizballah fortresses, those fortified positions from which missiles are launched against the Israeli civilian population," Regev said.
Calling Up The Reserves
Israeli media say the military has called up at least 15,000 reservists to support the ground operations.
Hizballah today says it is battling Israeli troops in areas near the border and that four of its fighters were killed. The Israeli Army says 20 guerrillas have been killed in the past 48 hours.
Three Hizballah rockets hit an Israeli village overnight. There were no reports of casualties.
Burying The Dead
Meanwhile, the southern town of Qana is set today to bury the bodies of at least 54 civilians, including 37 children, who were killed in an Israeli air strike on July 30.
That strike, for which Israel has apologized, led Israel to partially halt air strikes to allow civilians in the south to escape the violence and for aid convoys to reach the needy.
Roland Huguenin, a spokesman for the International Committee of the Red Cross (ICRC), spoke to reporters from the village of Hinia, near Tyre in southern Lebanon.
"For more than two weeks, the ICRC has been assisting civilian Lebanese in the villages on the south," Huguenin said. "They were living in shelters under the shelling. Today some of them decided to move north. The ICRC will go on helping them in their shelters in the south and will set up an operation of relief for those who made the decision to go up north."
No Cease-Fire On The Horizon
The Qana strike, which Israel said was prompted by Hizballah rocket fire from the village, sparked international condemnation and calls for an immediate cease-fire.
U.S. Secretary of State Condoleezza Rice, leaving Jerusalem on July 31, said she believed there could be a cease-fire within a week.
But any talk of a truce was quashed hours later by Israeli Prime Minister Ehud Olmert, who vowed in a nationally televised address that the war would continue until the threat from Hizballah rockets is neutralized.
"The fighting continues," Olmert said. "There is no cease-fire, and there will not be any cease-fire in the coming days."
Israeli Infrastructure Minister Binyamin Ben-Eliezer says the army will need up to two weeks to complete its objectives.
Reports say the new Israeli offensive will involve tanks and ground forces pushing 6 to 7 kilometers into Lebanon and perhaps even farther.
Israeli officials say the offensive could end once an international peacekeeping force is ready to be deployed to southern Lebanon.
But the United Nations on July 30 postponed discussion on mobilizing such a force, awaiting more diplomatic progress.
Meanwhile, neighboring Syria, a major backer of Hizballah, has ordered its military to raise its level of readiness.

Iran, Syria, And Hizballah
Iran, Syria, And Hizballah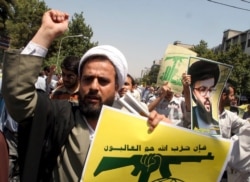 Iranians demonstrating in support of Hizballah in Tehran on July 17 (epa)

'FOR THE SAKE OF LEBANON': The Islamic Republic of Iran has served as an ideological inspiration for Hizballah since the Lebanese militant group's creation in 1982, and Tehran acknowledges that it supports the organization morally and politically. "Yes, we are friends of Syria and Iran" Hizballah leader Hassan Nasrallah has said. "For 24 years we benefited from our friendship with Syria and Iran for the sake of Lebanon...." (more)
RELATED ARTICLES
Tehran Playing Key Role In Israel-Lebanon Crisis
Iran, Hizballah Brush Off U.S. Terrorism Label
Intifada Conference In Tehran Has Multiple Objectives
UN Resolution Rankles Syria, Hizballah, Iran
ARCHIVE
RFE/RL
coverage of Iran
. RFE/RL web special on
Iran's nuclear program
.
SUBSCRIBE
For weekly news and analysis on Iran by e-mail,
subscribe to "RFE/RL Iran Report."