The analytical survey, entitled "Countries At The Crossroads," focuses on the key components of democratic governance: government accountability, civil liberties, rule of law, and anticorruption and transparency measures.
Of the countries located in the former Soviet space, Georgia and Ukraine won praise for their commitment to reforms and actions to implement them. Azerbaijan and Kazakhstan were deemed among the weakest performers at combating corruption.
"All of the countries are confronting the challenge of weak institutions and the legacy of the old system and the corruption that accompanies it."
The 30 countries selected for this year's survey are both strategically important and struggling to consolidate their democratic institutions. They were evaluated according to their governments' performance, rather than through opinion surveys of citizens or decision-making elites.
Confronting The Soviet Legacy
While each country's performance is varied, certain trends were observable across regional groupings, such as the Caucasus.
"The important message that comes through in the Caucasus is that all of the countries are confronting the challenge of weak institutions and the legacy of the old system and the corruption that accompanies it," says Chris Walker, the co-editor of the Freedom House report. "Our findings show that the Georgian authorities have taken the most vigorous effort to make headway against some of these larger problems."
In Azerbaijan, the report noted that the country "retains Soviet-era governance features" with "flawed institutions." Walker says the country is structurally incapable of providing sufficient levels of accountability.
"Azerbaijan is really at a pivotal point, because it's poised to enjoy this massive energy wealth," he says. "And there are questions about whether its institutions are positioned in a way that will allow it to put those growing resources to constructive use for the wider public's interest."
'Promising Signs' In Kyrgyzstan, Less So In Kazakhstan
In Central Asia, the paths of various countries are diverging. In the case of Kyrgyzstan, Walker says, the country showed improvement in the wake of the spring 2005 Tulip Revolution.
"We evaluated in the study some very promising signs on the heels of the rotation of power, the elections that were held in the aftermath of the events that spring, and some nascent openings for the press," he added.
More recently, however, Walker notes that there have been large "question marks" about the direction of Bishkek's reform effort."
In Kazakhstan, the story is even less positive. The country's economy is performing strongly, but its record on democratic governance is weak.
Walker notes that on a scale from 0 to 7, the country scored less than 3 on three of the four indicators -- accountability, rule of law, and anticorruption and transparency measures.
Describing Kazakhstan as a country "that has considerable opportunities based on its energy wealth," Walker notes that it "also confronts these basic issues of accountability with respect to how the energy resources will be used and whether the leadership in the country can find a course that will enable meaningful political competition in the coming term."
'Two Steps Forward, One Step Back'
In Ukraine, today's decision by President Viktor Yanukovych to approve his pro-Russian rival as prime minister shows a distinct swing back from the 2004 Orange Revolution.
Walker acknowledges that the political situation in Kyiv is in flux, but he says the government has made considerable strides with accountability. There have been nascent efforts to tackle corruption and institutional reform.
"What's clear from the findings on a country like Ukraine is that their reform effort is going to be one of considerable duration," he says. "And it's going to be two steps forward, one step back on a number of key governance fronts. But in the efforts that they made during the coverage period [November 2004-November 2005] we observed considerable improvement."
Next year, Freedom House's report will consider the progress made by Russia and Tajikistan along with some 28 other countries.
Russia's Democratic Development
Russia's Democratic Development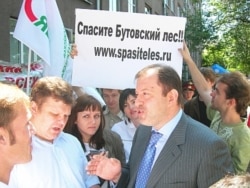 Demonstrators speak with local politicians in Butovo about the destruction of a local forest in July 2006 (RFE/RL)

IS RUSSIAN DEMOCRACY MANAGING? Russian President Vladimir Putin has said Western powers seek to pressure Russia under the pretext of concern over its democratic development. He has said Russia is ready to listen to "well-intentioned criticism," but will not allow anyone to interfere in its internal affairs. The Kremlin has been criticized for stifling political oppostion, increasing central control over the media, and cracking down on the work on nongovernmental organizations.
RELATED ARTICLES
Concerns Raised About Moscow Chairing Rights Committee
Using Racism Is A Time-Honored Kremlin Tool
Putin Comes Under Fire At Global Media Congress
Oligarch's Case A Sign Of The Times
'Letter Of 100' Warns That Putin Is Suppressing Democracy
A Hard-Line Agenda For Putin's Second Term
Book Says Putin's Russia Falls 'Between Democracy and Dictatorship'
NGOs Denounce Status Changes As Move To Curb Activities
Scrutiny Of Foreign Funds Hurts Democracy Programs
U.S. Official Says Russian NGO Law Part Of Antidemocratic Trend

SUBSCRIBE
For news and analysis on Russia by e-mail,
subscribe to "RFE/RL Russia Report."