Heading the agenda are talks on the formation of a customs union and the development of a strategy for water-energy regulation. The body links Russia, Kazakhstan, Belarus, Uzbekistan, Tajikistan, and Kyrgyzstan.
The Eurasec leaders gathered at Russian President Vladimir Putin's Sochi residence last night for a working dinner.
This is the third time the group, formed in 2001 to further economic ties after the Soviet collapse, meets this year.
In opening remarks ahead of today's talks, Putin said the group's chief concern was the swift economic integration of its member countries.
"Our intentions to deepen the integration processes within the [Eurasian Economic Community] to the point of creating a customs union should be clearly coordinated with the pace and quality of the World Trade Organization accession process for each of the countries present here," Putin said.
Proposed Customs Union
Proposals to be discussed this week include finalizing plans for a customs union and developing a common strategy for water-energy regulation in Central Asia.
Creating a single customs and energy zone would help bring Eurasec countries one step closer to their goal of forming a single economic space.
Some observers say that Russia also sees Eurasec as a means to snub the United States. The two countries failed to reach an agreement on Russia's WTO accession at the G8 summit in July, dashing Russia's 13-year-old hopes of joining the international trade body.
Security Agreement
Leaders are also expected to discuss closer cooperation between Eurasec and the Collective Security Treaty Organization (CSTO). An agreeement was signed today sealing Uzbekistan's entry to the CSTO.
The Eurasec summit was somewhat overshadowed by the visit of Viktor Yanukovych, Ukraine's recently appointed prime minister. He is in Sochi as an Eurasec observer.
The Kremlin-backed Yanukovych, who is on his first foreign visit as prime minister, is expected to urge Russia to secure affordable Russian gas supplies for Ukraine.
Russia increased gas tariffs for Ukraine twofold during a price row in January that briefly cut gas supplies to Ukraine and Europe.
Speaking to reporters today, Yanukovych said agreements on gas prices had been reached for 2006 and 2007. But he gave little detail.
"The [gas] price will be market-based, of course, but the mechanism of its formation will be transparent and certainly adequate to the level of economic relations between Ukraine and Russia," Yanukovych said.
Armenia's leader, Robert Kocharian, was also attending the meeting as an observer.
Russia And The West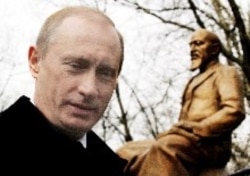 (epa)
COOPERATION, CONFLICT, CONFRONTATION: Relations between Russia and the West are notoriously volatile. "To see the kind of relationship that presidents Bush and Putin have developed and to see Russia firmly anchored in the West, that's really a dream of 300 years, not just of the post-Cold War era," then-national security adviser Condoleezza Rice said in May 2002.
But observers have increasingly called into question the extent of the shared values between Russia and the West, particularly on issues relating to the transformations going on in other former Soviet countries.
RELATED ARTICLES
Silent Diplomacy Versus Public Criticism
Analysts Say New Arms Race Unlikely
Moscow 'Unhappy' With Outcome Of CFE Conference
Moscow And Washington Spar Over WTO Membership
Russia Gears Up To Improve Its Image Abroad
Experts Urge U.S. To Rethink Relations With Russia
U.S. Official Says Russian NGO Law Part Of Antidemocratic Trend
ARCHIVE
To view an archive of RFE/RL's coverage of Russia, click here; to view an archive of RFE/RL's coverage of U.S.-Russian relations, click here.

SUBSCRIBE
For news and analysis on Russia by e-mail, subscribe to "RFE/RL Russia Report."