Niyazov made the remarks in Ashgabat after talks with Yu Guangzhou, China's visiting deputy commerce minister.
Under a deal signed in April, China is due to buy an annual 30 billion cubic meters of Turkmen natural gas over 30 years.
Also today, Turkmenistan and China signed four agreements on cooperation in the textile, oil, and gas equipment, communications, and customs sectors. A fifth agreement on the issuance of Chinese soft loans to Turkmenistan was also closed.
In other news, Turkmenistan's official TDH news agency reports that Niyavov today appointed Yarmukhammet Orazgulyev as chairman of Turkmenergo, the country's national electricity production company.
Orazgulyev will also assume the duties of first deputy energy and industry minister, with a six-month probation period.
(NewsCentralAsia, Interfax, www.turkmenistan.gov.tm)
China In Central Asia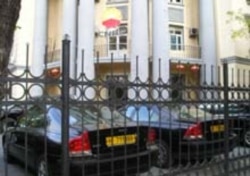 The Almaty,Kazakhstan, office of China's National Petroleum Corporation (RFE/RL)
BEIJING ON THE RISE:
The September 11, 2001, terrorist attacks against the United States prompted Washington to topple the Taliban regime in Afghanistan. At the time, many predicted the United States would gain a new foothold in Central Asia: new U.S. military bases appeared in Kyrgyzstan and Uzbekistan, U.S. foreign aid increased, and much U.S. attention was lavished on the region. Russia and China looked on warily. But the pendulum may be swinging back in Moscow's and Beijing's favor. China, especially, has expended great effort at winning friends in Central Asia and is becoming a force to be reckoned with
....(more)
RELATED ARTICLES
Turkmenistan-China Pipeline Project Has Far-Reaching Implications
Central Asia Looks To Fuel Asia's Economic Boom
The Geopolitical Game In Central Asia
ARCHIVE
To view an archive of RFE/RL's coverage of China, click here.

SUBSCRIBE
For weekly news and analysis on all five Central Asian countries by e-mail, subscribe to "RFE/RL Central Asia Report."