Concerns Voiced Over Abducted Chechen Journalist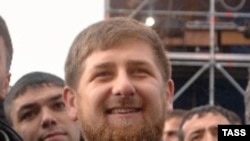 Ramzan Kadyrov and his militia have been repeatedly accused of abduction, extortion, and other human rights abuses (ITAR-TASS) PRAGUE, August 24, 2006 (RFE/RL) -- Russian and international rights groups are voicing concern over the fate of a reporter who was abducted in Chechnya last week.
Elina Ersenoyeva was seized by armed men in the Chechen capital, Grozny, on August 17.
Human rights activists say that Ersenoyeva had written to them two days earlier to say she was being harassed by security forces working for Prime Minister Ramzan Kadyrov.
Kadyrov's security forces have often been accused of human rights abuses, a charge he denies.
The Paris-based Reporters Without Borders has called on the Russian and Chechen authorities to take urgent action to locate Ersenoyeva.
The New-York-based Committee to Protect Journalists has also expressed about Ersenoyeva's fate.
Ersenoyeva was reportedly married to a rebel fighter who died this year.