Kadyrov said this would help Chechnya's law enforcement organs become "war-capable units."
Putin on August 2 instructed the Defense and Interior ministries to come up with a plan to reduce the number of Russian service personnel in Chechnya.
The order was made public by the state newspaper "Rossiiskaya gazeta" on August 8.
Observers say a withdrawal would boost the influence of Kadyrov's own security force, which human rights activists accuse of widespread abuses.
(Interfax, AP, AFP)

The Chechnya Conflict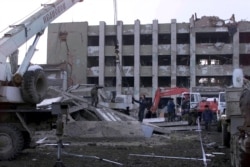 The aftermath of a December 2002 Chechen resistance attack on the main government building in Grozny (epa)


CHRONOLOGY
The
fighting in Chechnya
has raged, with short breaks, since 1994. It has brought misery, death, and destruction to the North Caucasus republic and to Russia as a whole. View an
annotated timeline
of the conflict.

ARCHIVE
RFE/RL's complete coverage of Russia's war-torn Republic of Chechnya.