Chechen Rebels Reject Russian Amnesty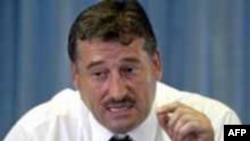 Chechen President Alu Alkhanov (file photo) (AFP) July 19, 2006 -- The leader of the Chechen rebels today dismissed a Russian amnesty offer, saying attacks outside the region would be the response.
The head of a rebel movement, Doku Umarov, said in the statement on a rebel website that Moscow only wants "to hide the real situation behind lies."
Earlier in the day, Chechnya's Moscow-backed president had proposed a January 1 deadline for separatists to lay down their weapons.
Alu Alkhanov's suggestion came a day after the director of Russia's FSB domestic intelligence service, Nikolai Patrushev, proposed August 1 as the deadline.
Interfax quotes Alkhanov as saying that extending the deadline would give separatists "time to contemplate their decision."
(AP, Interfax, Kavkazcenter)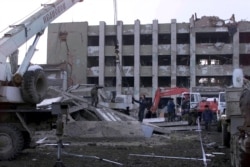 The aftermath of a December 2002 Chechen resistance attack on the main government building in Grozny (epa)


CHRONOLOGY
The
fighting in Chechnya
has raged, with short breaks, since 1994. It has brought misery, death, and destruction to the North Caucasus republic and to Russia as a whole. View an
annotated timeline
of the conflict.

ARCHIVE
RFE/RL's complete coverage of Russia's war-torn Republic of Chechnya.