Details of the amnesty have yet to be worked out, but Patrushev, who also heads Russia's domestic intelligence service, the FSB, said the amnesty would offer those "deceived by the leaders of militant groups and drawn into criminal activity...a real chance to return to peaceful life."
Patrushev urged rebels to disarm by August 1.
The amnesty follows the death of rebel warlord Shamil Basayev on July 10.
Past amnesties have had limited success.
(dpa, Reuters)

Shamil Basayev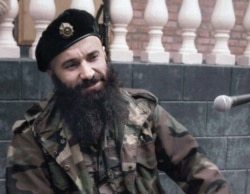 Shamil Basayev in September 1999 (epa)

MASTERMIND OF BUDYONNOVSK, BESLAN: Radical Chechen field commander Shamil Basayev waged a 15-year campaign against Russian control of Chechnya, including masterminding some of the most audacious terrorist acts the world has ever seen. Below are links to some of RFE/RL's reporting about Basayev in recent years.
RELATED ARTICLES
The Rise Of Russia's 'Terrorist No. 1'
Is Basayev Planning To Torpedo The Russian-Chechen Power-Sharing Treaty?
Basayev Rejoins Chechen Rebel Government
Basayev Says He Helped Plan Nalchik Raid
Basayev Says Beslan Raid Prompted By FSB Sting
Moscow Says It Will Punish U.S. TV Network Over Basayev Interview
Budyonnovsk Marks 10th Anniversary Of Terrorist Raid
Look Back In Anger -- Ten Years Of War In Chechnya
CHRONOLOGY
An
annotated timeline
of the conflict.

ARCHIVE
RFE/RL's complete coverage of Russia's war-torn Republic of Chechnya.