The date was agreed upon during a joint session of the lower and upper chambers of parliament on August 31.
President Imomali Rakhmonov has not made it clear whether he will seek a third term, but most political analysts believe he will.
A former leader of the Islamic opposition during Tajikistan's 1992-97 civil war told RFE/RL that he would vote for Rakhmonov, should the latter decide to seek a third term in the upcoming polls.
Lawmaker Hoji Akbar Turajonzoda said he could see no "political figure that could compete with Rakhmonov and have a chance to win this election" and that Rakhmonov "has in fact started implementing a number of [economic] programs in recent years with a view to rebuilding the country and raising the population's living standards."
Turajonzoda said "some people have asked me why I don't want to be a candidate for president" but he ruled out that possibility, saying that "the main reason is that I don't consider myself a worthy candidate."
Torajonzoda, who briefly joined the post-civil war national reconciliation government after breaking with the Islamic Renaissance Party, said he does not believe the Tajik people is ready "to have a president with an Islamic past." Nor does he think "neighboring countries, Europe, Russia, or Western nations" would welcome such a president for Tajikistan.
He said that, for all those reasons, the coming to power of an "Islamic figure" would be detrimental to Tajikistan and its people.
Rakhmonov has ruled Tajikistan since 1992, first as chairman of the Supreme Council, and then as president.
15 Years Of Kyrgyz Independence
15 Years Of Kyrgyz Independence
A NATIONAL CELEBRATION: RFE/RL's Kyrgyz Service sent this photo report from the celebration of the 15th anniversary of Kyrgyz independence in Bishkek on August 31. Photographs by Talant Shabiev.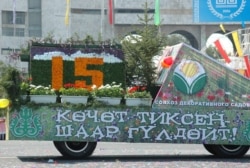 (RFE/RL)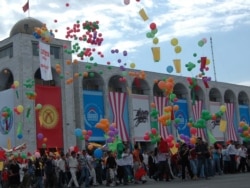 (RFE/RL)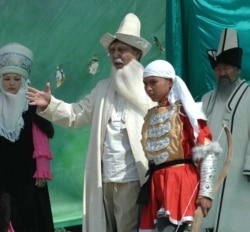 (RFE/RL)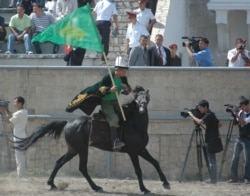 (RFE/RL)
(RFE/RL)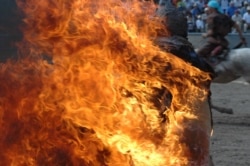 (RFE/RL)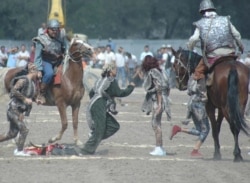 (RFE/RL)
MORE: Additional coverage and more photographs at the website of RFE/RL's Kyrgyz Service.


THE COMPLETE STORY: Click on the icon to view a dedicated webpage bringing together all of RFE/RL's coverage of Kazakhstan, Kyrgyzstan, Tajikistan, Turkmenistan, and Uzbekistan.