Kazakhstan To Move Residents Of Border Town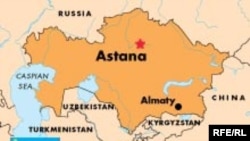 (RFE/RL) ASTANA, September 1, 2006 (RFE/RL) -- Kazakhstan's Prime Minister Daniyal Akhmetov has ordered the release of more than 120 million tenge ($960,000) to help relocate part of the population of Zhartytobe, a border town that is due to be partially transferred to Uzbekistan.
The households that will be moved live within 30 meters of the border with Uzbekistan.

RFE/RL Central Asia Report

SUBSCRIBE For regular news and analysis on all five Central Asian countries by e-mail,
subscribe to "RFE/RL Central Asia Report."