Afghan Defense Ministry spokesman Zahir Azimi said on September 3 that he had reports of up to 89 insurgent deaths. This could not be independently confirmed.
Three Canadian soldiers were also reported killed and six injured in what was described as the biggest NATO operation in the region since the alliance took over command of the area at the end of July from U.S.-led coalition forces.
Hundreds of NATO and Afghan troops, backed by combat aircraft and helicopter gunships, are involved in Operation Medusa, which was launched on September 2 in Panjwayi District in the province of Kandahar.
Meanwhile, Britain's Defense Ministry says it has opened an investigation into a crash on September 2 of a British plane in southern Afghanistan in which 14 of its troops were killed.
This is the greatest loss of life in a single incident suffered by British troops in Afghanistan. Some 36 British soldiers have now been killed in the country since 2001.
The Royal Air Force Nimrod MR2 aircraft was flying in support of the international operation in southern Afghanistan when it went down in the province of Kandahar.
(AFP, AP, Reuters)
The Afghan Insurgency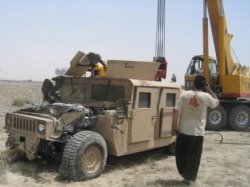 A U.S. military vehicle damaged by insurgents near Kandahar (epa)
HOMEGROWN OR IMPORTED? As attacks against Afghan and international forces continue relentlessly, RFE/RL hosted a briefing to discuss the nature of the Afghan insurgency. The discussion featured Marvin Weinbaum, professor emeritus of political science at the University of Illinois at Urbana-Champaign, and RFE/RL Afghanistan analyst Amin Tarzi.
LISTEN
Listen to the entire briefing (about 83 minutes):
Real Audio
Windows Media
ARCHIVE
RFE/RL's
coverage of Afghanistan
.
SUBSCRIBE
For weekly news and analysis on Afghanistan by e-mail,
subscribe to "RFE/RL Afghanistan Report."