Russia To Try Captain Of Detained Japanese Boat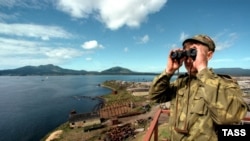 A Russian border guard on Kunashir Island in the Southern Kuriles (ITAR-TASS) September 4, 2006 -- The captain of a Japanese fishing vessel seized by Russian border guards in disputed waters on August 16, was committed today for trial in a Russian court in Yuzhno-Kurilsk.
It is not clear when the trial of Captain Noboru Sakashita will begin.
One crew member was shot dead and three others, including the captain, were detained for illegal fishing in Russian Far Eastern waters.
(AP)