De Hoop Scheffer also said the NATO-led International Security Assistance Force (ISAF) would go ahead with plans to take over from U.S.-led coalition forces in the east.
De Hoop Scheffer, who is on a three-day visit to Afghanistan, made the pledge in an address to the country's legislature.
"Ongoing violence in some areas of the country, as we are experiencing and witnessing today, will not deter NATO from carrying out its mission," he added. "Indeed, NATO-ISAF will continue to engage the enemy militarily, alongside Afghan security forces, if need be, and also in this respect, NATO-ISAF and the Afghan National Army are working together."
Afghan parliament speaker Yunos Qanuni asked de Hoop Scheffer to ensure that NATO troops avoid civilian casualties while fighting Taliban fighters.
Qanuni warned that harming civilians could be used by militants to turn the public against the Afghan government.
Earlier today, NATO's secretary-general and President Hamid Karzai signed an agreement to boost security and development in Afghanistan.
De Hoop Scheffer is traveling with a delegation of NATO ambassadors and the alliance's top commander, U.S. General James Jones.
(Reuters, AP, AFP)
The Afghan Insurgency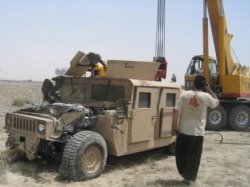 A U.S. military vehicle damaged by insurgents near Kandahar (epa)
HOMEGROWN OR IMPORTED? As attacks against Afghan and international forces continue relentlessly, RFE/RL hosted a briefing to discuss the nature of the Afghan insurgency. The discussion featured Marvin Weinbaum, professor emeritus of political science at the University of Illinois at Urbana-Champaign, and RFE/RL Afghanistan analyst Amin Tarzi.
LISTEN
Listen to the entire briefing (about 83 minutes):
Real Audio
Windows Media
ARCHIVE
RFE/RL's
coverage of Afghanistan
.
SUBSCRIBE
For weekly news and analysis on Afghanistan by e-mail,
subscribe to "RFE/RL Afghanistan Report."