One NATO soldier was also reported killed in the most recent clashes.
The deaths are the latest reported in a weeklong offensive in the Panjwayi district of Kandahar Province. NATO has reported at least 350 insurgents killed in the operation. NATO says 19 of its troops have died in the operation.
NATO defense ministers are meeting in Warsaw today to discuss calls to strengthen the alliance force in southern Afghanistan.
The alliance's commander, U.S. General James Jones, wants at least 2,000 more troops and extra aircraft added to the current force levels in Afghanistan.
(Reuters, AP, AFP)
The Afghan Insurgency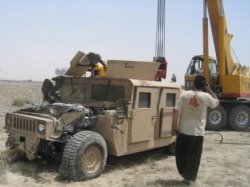 A U.S. military vehicle damaged by insurgents near Kandahar (epa)
HOMEGROWN OR IMPORTED? As attacks against Afghan and international forces continue relentlessly, RFE/RL hosted a briefing to discuss the nature of the Afghan insurgency. The discussion featured Marvin Weinbaum, professor emeritus of political science at the University of Illinois at Urbana-Champaign, and RFE/RL Afghanistan analyst Amin Tarzi.
LISTEN
Listen to the entire briefing (about 83 minutes):
Real Audio
Windows Media
ARCHIVE
RFE/RL's
coverage of Afghanistan
.
SUBSCRIBE
For weekly news and analysis on Afghanistan by e-mail,
subscribe to "RFE/RL Afghanistan Report."