Bush told the newspaper the "Wall Street Journal" on September 9 that he wanted to hear Khatami's views.
Bush also said he is interested in learning more about the Iranian government. And he said his hope is that diplomacy will work in convincing the Iranians to give up what he described as their nuclear-weapons ambitions.
Khatami was Iran's president from 1997 to 2005. He is the most prominent Iranian in years to visit the United States, outside of visits to the United Nations' New York headquarters.
Seen as a reformist, Khatami's five-city speaking tour came amid U.S. accusations that Iran is pursuing nuclear weapons, sponsors terrorism, and provides arms to Hizballah guerrillas in Lebanon.
(Reuters)
Ahmadinejad's Letter To Bush
Ahmadinejad's Letter To Bush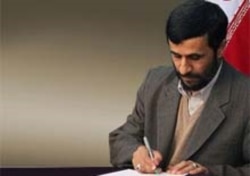 (Fars)


PRESIDENT TO PRESIDENT: On May 8, the Iranian government announced that President Mahmud Ahmadinejad had sent a letter to U.S. President George W. Bush. The letter was the first direct communication between leaders of the two countries since Iran's 1979 Islamic Revolution. RFE/RL has posted the English version of Ahmadinejad's letter that was posted on the Iranian president's website.
"The people will scrutinize our presidencies," AHMADINEJAD wrote. "Did we manage to bring peace, security, and prosperity to our people or insecurity and unemployment? Did we intend to establish justice, or just support special-interest groups and -- by forcing many people to live in poverty and hardship -- make a few people rich and powerful, -- thus trading the approval of the people and the Almighty for [that of those few]? Did we bring the world peace and security or did we raise the specter of intimidation and threats?"...(more)
ARCHIVE
For an archive of RFE/RL's coverage of Iran, click here.


THE COMPLETE PICTURE: RFE/RL's complete coverage of controversy surrounding Iran's nuclear program.
CHRONOLOGY
An annotated timeline of Iran's nuclear program.