UN Calls For NATO To Destroy Afghan Opium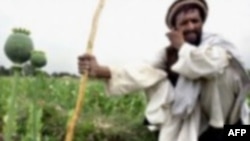 Afghan opium farmer (file photo) (AFP) PRAGUE, September 12, 2006 (RFE/RL) -- The head of the UN's Office on Drugs and Crime (UNODC) called for robust military action by NATO forces to destroy the opium industry in southern Afghanistan.
Antonio Maria Costa made the call in Brussels while presenting details of the UNODC's latest report on opium cultivation in Afghanistan.
The report shows Afghan opium cultivation surged by 59 percent this year despite millions of dollars in development assistance to wean farmers off the crop.
NATO troops currently do not destroy opium crops unless requested to do so by Afghanistan's central government.
Costa said Afghan farmers must be made to think twice before planting opium this autumn.
He said development assistance should be combined with stronger efforts to destroy illegal crops.