Afghanistan's Hamid Karzai and Tajikistan's Imomali Rakhmonov said they were seriously concerned by a growing flow of drugs from the region.
Speaking in the Tajik capital, Dushanbe, they urged the world to help introduce alternative agricultural crops that poor Afghan farmers could grow instead of opium. In a joint statement, they also called for the creation of a regional antidrugs-smuggling center.
The two presidents also signed an agreement that aims at securing the return of Tajik and Afghan prisoners in their respective home countries.
An estimated 150 Afghan nationals are serving prison terms in Tajikistan, most of them on drugs-trafficking charges. The number of Tajik nationals held in Afghan custody is unclear.
(with additional material from Avesta, Reuters)

Iran's Drug Problem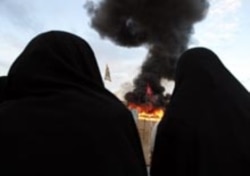 READ
DRUG USE ON THE RISE:
The Iranian approach to drug control is very relevant to the rest of the world, because Iran's neighbor, Afghanistan, is the world's leading producer of opium. Iran leads the international community in global opium seizure rates and it is second to Pakistan in opiate seizures, according to the UN Office on Drugs and Crime. Iran also leads the world in the prevalence of drug abuse (2.8 percent of the population aged 15 or older), according to the UNODC.
(more)
See also:
Iran: Country's Drug Problems Appear To Be Worsening
New Ways Considered For Tackling Growing Drug Use Among Young Iranians


SUBSCRIBE: For weekly news and analysis on Iran by e-mail, subscribe to "RFE/RL Iran Report."