Russia Warns Of Afghan Drug Threat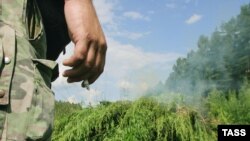 Russian counternarcotics officers destroy a field of hemp, the raw material for cannabis, in the Moscow region (ITAR-TASS) June 28, 2006 -- Russian Foreign Minister Sergei Lavrov said today that Afghanistan is still on the verge of turning into a drug state.
Speaking at an international conference in Moscow on combating Afghan drug smuggling, Lavrov called for more funds to be provided to the UN's drug and crime agency.
He said Moscow is considering raising its financial contribution. Russia is one of the main destinations and a major transit route for drugs smuggled out of Afghanistan.
(RIA Novosti, AP)