Six Charged Over Killings In Karelia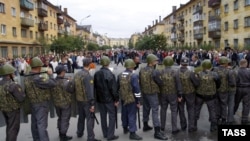 Police in Kondopoga cordon off demonstrations against local Chechens in Kondopoga on September 3 (ITAR-TASS) September 12, 2006 -- Prosecutors in Russia's Karelia region have charged one person with murder and five others with hooliganism following a bar fight that left two people dead in the northwestern town of Kondopoga.
All six suspects are reportedly natives of the Caucasus.
The deaths on August 30 sparked attacks on Chechen-owned businesses.
The Karelian authorities have opened more than a dozen criminal investigations into the attacks.
(ITAR-TASS, Interfax)


UPDATED CONSTANTLY: Visit RFE/RL's Russian-language website, featuring news, analysis, features, streaming audio, and more, in Russian, from RFE/RL's Russian Service.
ARCHIVE
RFE/RL's English-language
coverage of Russia
.