The alliance has recently taken over operational command in the area from U.S.-led coalition forces.
British Prime Minister Tony Blair today said that Britain's NATO allies have a "duty" to send more troops to Afghanistan.
Blair said British and other international troops are inflicting "real damage" on the Taliban and Al-Qaeda, but it is important that all members of NATO regard it as their responsibility to strengthen the alliance's military presence in the country.
Blair was speaking in London at a press conference with Chinese Prime Minister Wen Jiabao. Wen said Beijing backs NATO efforts to bring stability to Afghanistan.
(AFP, Reuters)

The Afghan Insurgency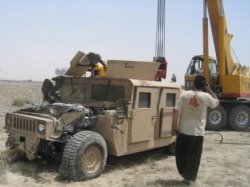 A U.S. military vehicle damaged by insurgents near Kandahar (epa)
HOMEGROWN OR IMPORTED? As attacks against Afghan and international forces continue relentlessly, RFE/RL hosted a briefing to discuss the nature of the Afghan insurgency. The discussion featured Marvin Weinbaum, professor emeritus of political science at the University of Illinois at Urbana-Champaign, and RFE/RL Afghanistan analyst Amin Tarzi.
LISTEN
Listen to the entire briefing (about 83 minutes):
Real Audio
Windows Media
ARCHIVE
RFE/RL's
coverage of Afghanistan
.
SUBSCRIBE
For weekly news and analysis on Afghanistan by e-mail,
subscribe to "RFE/RL Afghanistan Report."