After 18 years of beatings at the hands of her husband, she had endured about as much as she could take. When he beat her again that night she called her father. He is then alleged to have come to her home and murdered her husband while he slept.
Natia, who is six months pregnant and has three children, is now in prison awaiting trial, accused of instigating murder.
In the absence of shelters for women -- there are just two in the whole of Georgia -- many victims of domestic violence have no option but to endure the humiliation in silence.
Her husband, Ucha Janelidze, was a district chief of police.
Case Draws National Attention
The horror of Natia's story caught the attention of Georgia's public ombudsman, Sozar Subari.
"It's very disturbing to hear her describe the violence she endured over so many years," Subari said. "Her ex-husband kidnapped her at the age of 14 and began to beat her three days after their forced marriage. From then on, the violence was a permanent and periodic fact of life -- not just toward her but to her children as well. Of course, this does not justify murder, but this is a very serious problem that demands the serious attention of both government and society."
One In Four Women A Victim?
Amnesty International says it is impossible to calculate the scale of the problem in Georgia in the absence of official statistics. Nino Tsikhistavi, though, of the Coalition of Caucasian Women, an NGO that defends women's rights throughout the region, says her organization has made its own calculations.
Issues, on which a country does not have official statistics, are usually considered problematic, dubious, and capable of discrediting the country's image," Tsikhistavi says. "According to the statistics obtained by our organization, every fourth woman is a victim of domestic violence in Georgia; and every seventh pregnant woman falls victim to this as well."
A new Amnesty International report on the topic notes that most women regard domestic violence as a family matter and are reluctant to take their complaints to the police.
Those that do invariably receive an unsympathetic reception. Violent husbands and boyfriends operate in a climate of impunity.
In the absence of shelters for women -- there are just two in the whole of Georgia -- many victims of domestic violence have no option but to endure the humiliation in silence.
Government Taking The First Steps
Amnesty argues that the biggest task is raising public awareness and insists that the government must take greater responsibility for doing this.
"One of the main recommendations is that there has to be more public awareness raising and it should also be done by the government," says Anna Sunder-Plassman, Amnesty's researcher on Georgia. "NGOs have done a lot already. Government officials should state that domestic violence is a human rights violation and a crime in public. It should be made a part of the school curriculum to talk about gender stereotypes and to raise awareness in the population."
Yet Amnesty also says it does not intend to single out Georgia. Violence against women is widespread throughout the former Soviet Union and is a problem too in Western Europe.
Indeed, the report says current changes in Georgia give some grounds for hope.
"There is a momentum for change now in Georgia. Parliament adopted the first-ever law on domestic violence in May and currently a national action plan on domestic violence is being drafted," Sunder-Plassman says. "And we want these initiatives to succeed. We want to build on this momentum now."
But, says Amnesty, the onus is on the government to act on its international obligations. Police, judges, and prosecutors must be properly trained to deal with cases of domestic violence and to adopt a culture of zero tolerance toward its perpetrators.
Natia Janelidze would certainly agree.
(RFE/RL's Georgian Service contributed to this report.)
Human Rights In Georgia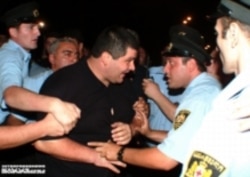 Georgia's police have been accused of using excessive force (official site)


READ
'CULTURE OF IMPUNITY':
Georgian President Mikheil Saakashvili's government has had
a checkered human rights record
since it came to power after the 2003 Rose Revolution. The international community has welcomed the steps taken by the new Georgian leaders to refine the legal mechanisms needed to combat rights abuses. But it also blames the government for failing to ensure those mechanisms are properly implemented
....(more)
RELATED ARTICLES
Rights Group Sees Rise In Police Brutality In Georgia
Citizens See No Improvement In Society, Economy After Revolutions
Helsinki Report Finds Human Rights Problems Plague Entire Region