Bribery Report Gives Low Marks To Turkey, Russia, China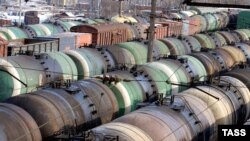 Russian oil awaiting export at a terminal in Vladivostok (ITAR-TASS) October 4, 2006 (RFE/RL) -- A new report says companies from India, China, Russia, and Turkey are the worst offenders when it comes to offering bribes overseas to win business.
Transparency International has issued its "Bribe Payers Index 2006," a ranking of the world's 30 largest exporting countries based on the likelihood of their companies to pay bribes abroad.
According to the survey of over 11,000 businesspeople in 125 countries, Switzerland, Sweden, and Australia are the most effective among the world's leading exporting countries in preventing their companies from offering bribing.
(with material from AP, Reuters)