Russian Foreign Minister Sergei Lavrov said the police are trying to cut off flows of money that he said the Georgian government is spend on the military in preparation for the "forceful seizure" of two pro-Russian separatist regions, Abkhazia and South Ossetia.
The Russian Interior Ministry said more than 10 banks and credit organizations had been involved in laundering the funds between April 2004 and January 2005.
The announcement comes after a diplomatic row erupted between Moscow and Tbilisi last month over the arrest of four alleged Russian spies.
(Interfax, AP)

Moscow And Tbilisi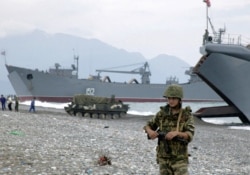 Russian military hardware being withdrawn from a Russian base in Batumi, Georgia, in August 2005 (TASS)

WHAT COMES NEXT? Although Russia is unlikely to push an aggressive military response to the current tensions with Georgia, it has a number of economic, political, and diplomatic options at its disposal. Already on October 1, Russian President Vladimir Putin summoned his inner circle to weigh Moscow's options... (more)
RELATED ARTICLES
Russia Says Georgia Sanctions Will Continue
Russia Suspends Transport, Postal Links To Georgia
EU Commissioner Urges Dialogue With Moscow
Ulterior Motives Seen Behind Escalation Of Spy Row
Georgia Turns Russians Over To OSCE
MORE: Coverage of the situation in Georgian from RFE/RL's Georgian Service and in Russian from RFE/RL's Russian Service.
ARCHIVE
RFE/RL's English-language coverage of
Georgia
and
Russia
.