Georgia: Russia's Crackdown Sends Olympian Packing
By Nona Mchedlishvili http://gdb.rferl.org/135F2B0D-B9CB-4095-9B75-1E2CFA3191D8_w203.jpg Elene Gedevanishvili and coach Yelena Vodorezova during the Turin Games (ITAR-TASS) Russia's crackdown on Georgians living in Russia has affected hundreds of people, but perhaps none as internationally recognizable as 16-year-old Elene Gedevanishvili. The figure skater was recently seen earning a top-10 finish at the Turin Winter Olympics. But after having trained off and on in Russia since she was eight, Elene found herself leaving Moscow for Tbilisi in search of a new place to train.
TBILISI, October 20, 2006 (RFE/RL) -- Georgia's top figure skater, Elene Gedevanishvili, has trained most of her life in Russia, with a Russian coach.

But that era came to an end this week after politics entered the equation.

Caught up in the recent crisis between her native Georgia and Russia, the Olympian athlete left Moscow for Tbilisi on October 16 after her mother was deported on a technicality.

Warm Welcome
Upon her arrival in Tbilisi, the 16-year-old skater was greeted with a hero's welcome. At a ceremony at the airport, Georgian President Mikheil Saakashvili presented Elene with the Order of Merit -- making her the youngest recipient of the prestigious award.

"I think this is a big loss for Russia -- but a bit gain for Georgia," Saakashvili said. "I want to note that in Russia, they are holding greeting ceremonies at airports for the spies that were expelled from Georgia. We are welcoming with celebrations champions who were expelled from Russia. And this is the difference between us and them. I want to award our champion with one of the highest state prizes, the Order of Merit."
"They deported my mother, and I could not stay there on my own. So I had to leave also. Now, I am planning to go to Tallinn and continue my training there." -- Elene Gedevanishvili

Elene is coming off her most successful season as a skater. The highlights of her first year in senior international competition included a fifth-place finish in the 2006 European Championships in January. She added to that achievement the next month by finishing 10th in the freestyle competition at the Turin Winter Olympics, aided by a sixth-place mark in the event's short program.

And she has added to those successes as the International Skating Union's 2006-07 season begins, recently taking first place overall at the Karl Shaeffer Memorial competition in Vienna.
Close To Home
Elene's mother, Maka Gamreklidze, is unable to hold back her emotions when discussing the day she and her daughter were stopped by Russian police as they returned from a training session in Moscow.

Fully aware of the recent crackdown on Georgians living in Russia, she says she was quick to point out to the police that the address listed in her documents was inaccurate.

"They are cracking down on children through their parents," Gamreklidze said. "For if a parent is made to leave, the child has to go as well. This is what happened to Elene. They stopped us seemingly by chance -- but it is known that they were given orders to stop every Georgian. So they found something [in the documents] that had been the correct thing for many years -- but in this particular case, turned out to be wrong. When they started to interrogate me, I directly told them that I did not actually live at the address that was registered."

Elene and her mother spent nearly four hours at a police station as officers looked into the situation. Eventually, with the help of the husband of the skater's coach, the two were released.

Two days later, however, Maka Gamreklidze's passport was returned bearing the stamp "to be deported" -- meaning she had only 10 days to leave Russia.

Elene was forced to choose -- remain in Moscow alone, or leave with her mother.

Bad Timing
She chose the latter, leaving the skater without a place to train with just three weeks to go before her first Grand Prix event of the new season, the Cup of China.

And without a proper training facility in Georgia, Elene would have to look abroad for an alternative site.

"They deported my mother, and I could not stay there on my own," Elene said. "So I had to leave also. Now I am planning to go to Tallinn and continue my training there."

No one expected that politics would come to separate the celebrated figure skater from her coach, Yelena Vodorezova, a former European and World medallist for the Soviet Union.
"If a parent is made to leave, the child has to go as well. This is what happened to Elene. They stopped us seemingly by chance -- but it is known that they were given orders to stop every Georgian." -- Elene's mother
But Vodorezova played a key part in her pupil's decision to leave Moscow. She recommended that Elene head to Estonia, where she could train under another medal-winning Soviet figure skater, Anna Kondrashova.

Vodorezova is sympathetic with Elene's plight.

"I don't know. In three weeks, we have to compete in China, for the first stage of the Grand Prix. The whole thing looks extremely uncertain now. I am really sorry to see her encountering such difficulties at the outset of her career," Vodorezova said. "She has to travel to Estonia, get used to ice and the new coach. But she is a very determined girl, she grew up a lot. Let's be hopeful."

During her time in Tbilisi, Elene will focus on maintaining her fitness under the tutelage of a former coach.

But soon she and her mother will be traveling together again. This time en route for Estonia, where Elene will remain for the remainder of her promising new season.
Russian Sanctions On Georgia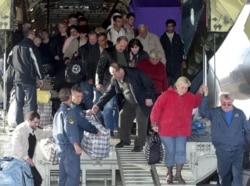 Georgian deportees arriving in Tbilisi on October 6 (epa)
RUSSIA DEPORTING GEORGIANS. Despite Georgia's release of four military officers accused of spying on October 2, Russia has continued its transport and postal blockade of Georgia, and has also deported hundreds of Georgians.... (more)
RELATED ARTICLES
Council Of Europe Head 'Concerned' About Reports Of Russian Sanctions
'No Time To Send Ambiguous Messages'
Ethnic Russians Feel Insulated From Tensions
Explaining West's Muted Response To Crisis
MORE: Coverage of the situation in Georgian from RFE/RL's Georgian Service and in Russian from RFE/RL's Russian Service.
ARCHIVE
RFE/RL's English-language coverage of
Georgia
and
Russia
.