Kyrgyz Authorities Break Up Islamic Charity Event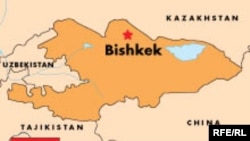 (RFE/RL) October 24, 2006 (RFE/RL) -- Security forces today dispersed an unsanctioned gathering of Muslims organized to mark the end of the holy month of Ramadan in Bishkek, RFE/RL's Kyrgyz Service reports.
Kyrgyzstan's AKIpress news agency says the gathering had been organized by a group calling itself the Bishkek Muslims Jamaat.

A group member, Bekzat Tuyteev, told AKIpress that city officials initially gave their approval to the event, which would have consisted of a free banquet and a Koran-reading contest.

Tuyteev said authorities rescinded their decision at the last minute, cut off electricity supplies to Bishkek's central Alatoo Square where the gathering was due to take place, and sent security forces to disperse the crowd.
"I looked and heard women shouting," Tuyteev said. "I saw [security officers] dragging three women and forcing them to enter a car. They did the same with two young men. Then they shut the door of the car and left."
Tuyteev said law enforcement officers detained nine people, and released two after a few hours.

City officials in turn say the charity was actually sponsored by the banned Islamist group Hizb ut-Tahrir and was possibly designed to stir unrest in the Kyrgyz capital.
RFE/RL's Kyrgyz Service reports that the National Security Service (SNB) has not confirmed reports suggesting the detainees are in its custody.

(with additional reporting by AKIpress, ferghana.ru, Interfax)