They also predicted he will easily win reelection on November 6.
The experts testified on October 26 in Washington before the U.S. Helsinki Commission, a U.S. government agency that monitors progress in the implementation of the 1975 Helsinki Accords.
They praised Rakhmonov for bringing stability to the country, but criticized him for stifling political opposition.
They also warned of the potential rise of warlord politics in the countryside, where the central government has little power.
Dennis DeTray, the former Central Asia director for the World Bank, called the country "one of the few post-conflict success stories in the world" and said Rakhmanov has made the country safer, more prosperous, and "removed an enormous amount of insecurity."
But he said that one of the top challenges for Tajikistan's future is the illegal drug trade that originates in Afghanistan.
"The single most threatening aspect for all of Central Asia is the drug production in Afghanistan," DeTray said. "Tajikistan has a 1,000-kilometer border with Afghanistan. It is virtually inconceivable how much money is being generated by this trade, relative to the gross domestic products of all the countries of Central Asia, with the possible exception of Kazakhstan. The corrosive effects of this money have already been strongly felt in the Kyrgyz Republic. It's not going to go away any time soon."
Also testifying at the briefing was the Tajik ambassador to the United States, Khamrokhon Zaripov. He said 18,000 local election observers are being trained in advance of the election.
Tajikistan's Presidential Election
Tajikistan's Presidential Election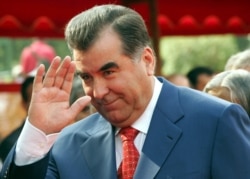 Imomali Rakhmonov has ruled Tajikistan since 1992 (epa file photo)


A THIRD TERM? On November 6, Tajikistan will hold its first presidential election since 1999. Incumbent President Imomali Rakhmonov is seeking a third term under controversial constitutional amendments adopted in 2003. The opposition has accused Rakhmonov's administration of using dirty tricks and legal pressure to split and weaken opposition parties. Most observers believe the November ballot will be less competitive than the 1999 election.
RELATED ARTICLES
Islamic Party Opts Out Of Presidential Vote
Opposition Disorganized As Presidential Election Nears
Lone Islamic Party Pursues Dual Path To Challenge Incumbent
Fractured Opposition Faces Uphill Battle Before Election
ARCHIVE
RFE/RL's
coverage of Tajikistan
. An RFE/RL web special on
Tajikistan's 2005 legislative elections
.
SUBSCRIBE
For weekly news and analysis on all five Central Asian countries by e-mail,
subscribe to "RFE/RL Central Asia Report."