In an open letter to Russian Federal Security Service (FSB) Director Nikolai Patrushev, the NGO Grazhdanskoye Sodeistvie says Muminov's extradition was illegal.
Muminov was forcibly sent back to Tashkent on October 24, despite an earlier decision by the Russian Prosecutor-General's Office to not hand him over to Uzbek authorities.
Muminov was arrested a few days earlier on charges of violating Moscow's residency rules.
The FSB admitted to expelling Muminov only on October 27, saying the deportation had taken place that day and had been endorsed by a Moscow court.
Grazhdanskoye Sodeistvie says Muminov should not have been deported because he had appealed against his arrest and that another Moscow court was due to consider his case on November 2.
(muslimuzbekistan.net, ferghana.ru)
Andijon Anniversary Conference
Andijon Anniversary Conference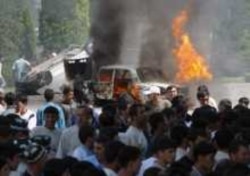 Violence in Andijon, Uzbekistan, on May 14, 2005 (epa)


TALKING ABOUT ANDIJON:
On May 9, 2006, RFE/RL, the National Endowment for Democracy, and U.S.-based human rights organizations cohosted a conference on the May 2005 events in Andijon and their aftermath in Uzbekistan and throughout the region. The first panel featured Andijon eyewitness
GALIMA BUKHARBAEVA
, National Endowment for Democracy Fellow
NOZIMA KAMALOVA
, RFE/RL Central Asia analyst
DANIEL KIMMAGE
, and others. The second panel featured presentations by U.S. Senator
JOHN MCCAIN
and U.S. Congressman
CHRISTOPHER SMITH
, who used the forum to announce they had introduced legislation calling for sanctions and other measures against the government of President Islam Karimov.
LISTEN
Listen to the Andijon conference. Part One (70 minutes):
Real Audio
Windows Media
Part Two (60 minutes):
Real Audio
Windows Media
The Uzbek government's response:
Real Audio
Windows Media


THE COMPLETE STORY: A dedicated webpage bringing together all of RFE/RL's coverage of the events in Andijon, Uzbekistan, in May 2005 and their continuing repercussions.
CHRONOLOGY
For an annotated timeline of the Andijon events and their repercussions, click here.