Hussein's attorneys say the report reiterates what they have said many times -- that the former Iraqi leader did not get a fair trial from the court that sentenced him to hang earlier this month.
In a 97-page report issued today, Human Rights Watch said the Iraqi Special Tribunal was guilty of shortcomings so serious that a fair trial for Hussein was all but impossible.

For example, it said the court failed to give defense lawyers important documents in advance, lost track of paperwork, and kept no written transcript.

The report expressed concern over the high turnover of judges on the five-member panel during the trial. Three left the bench and a fourth was frequently absent because of poor health.

The report said the judiciary lacked the expertise for such a complex trial and urged the government to let experienced international jurists take part directly in future trials.

(Reuters)
Saddam Hussein Biography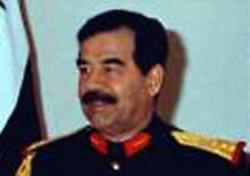 For a timeline of former Iraqi President Saddam Hussein's life from his rise within the ranks of the Ba'ath Party and the Revolution Command Council to his regime's ruthless persecution of perceived enemies at home and abroad, click here.