Uzbekistan's Foreign Ministry also said today that the decision by the U.S. State Department to include Tashkent on the list, issued in mid-November, was an example of unwarranted interference in internal Uzbek affairs.
An Uzbek government website declares that the move "again shows the one-sided approach and double standards of U.S. foreign policy."
The United States and some international rights groups have accused Uzbek officials of persecuting innocent Muslims and stifling independent voices in the name of countering extremism.
"It is clear that many of those harassed, abused, tortured, and convicted of membership in extremist organizations are simply observant Muslims," AP quoted U.S. Ambassador-at-Large for International Religious Freedom John V. Hanford III as saying.
After early cooperation in the U.S.-led war to oust the Taliban and Al-Qaeda in neighboring Afghanistan, relations between the United States and Uzbekistan have grown increasingly frosty.
Western governments have unsuccessfully pressed for an independent investigation into a bloody crackdown in eastern Uzbekistan in which eyewitnesses claim government troops killed hundreds of innocent demonstrators.
Tashkent also evicted U.S. military forces in late 2005 from an Uzbek base that was being used to support continuing operations in Afghanistan.
Tashkent and Washington also squared off on the United Nations, where Uzbekistan mustered opposition to a Western-backed resolution criticizing human rights violations in that country.
U.S. Ambassador John Bolton called that vote "a disappointment" for Washington.
(AFP, AP)
Hizb Ut-Tahrir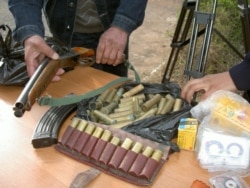 Arms and leaflets allegedly confiscated from Hizb ut-Tahrir members in Kyrgyzstan in May (RFE/RL)

ATTRACTIVE TO THE YOUNG: It is virtually impossible to estimate the size or composition of Hizb ut-Tahrir's membership in Central Asia, because the controversial movement is banned in most places. But some observers say anecdotal evidence suggests the group's core of younger members is growing....(more)
RELATED ARTICLES
Russia Approves List Of 17 'Terrorist' Groups
Extremist Threats, And Doubts, In Kyrgyzstan, Tajikistan
Hizb Ut-Tahrir's Calls For Islamic State Find Support
Hizb Ut-Tahrir Challenges Britian's Proposed Ban
Lone Islamic Party Pursues Dual Path In Tajikistan

A thematic webpage devoted to issues of religious tolerance in RFE/RL's broadcast region and around the globe.