But doctors in London say Mario Scaramella shows no symptoms of radiation poisoning.
Keith Patterson is a consultant for University College Hospital in London.
"Tests have detected polonium-210 in Mr. Scaramella's body, but at a considerably lower level than Mr. Litvinenko," he said. "He is currently well and shows no symptoms of radiation poisoning. He is receiving further tests over the weekend."
Scaramella, an Italian academic and self-described security expert, met with Litvinenko in a London sushi bar on November 1, the day Litvinenko became ill.
Litvinenko's wife has also tested positive for slight contamination by polonium-210, but so far has shown no serious health effects.
Meanwhile, four Greeks who stayed at the same hotel as Litvinenko are undergoing preliminary hospital tests for radiation toxicity.
(compiled from agency reports)
The Kremlin's Fallen Foes
The Kremlin's Fallen Foes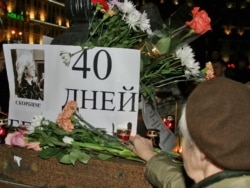 Mourners in Moscow mark the 40th day after the killing of investigative journalist Anna Politkovsksya on November 15 (TASS)

DANGEROUS DISSENT. A surprising number of vocal critics of the policies of Russian President Vladimir Putin have been killed or have died mysteriously in recent years. Although the Russian government has denied any involvement in any of the cases, some Kremlin watchers have begun speaking of a clandestine campaign to eliminate dissent.
April 17, 2003: Sergei Yushenkov, veteran liberal politician, Duma member, and leader of a staunchly anti-Kremlin party, is shot dead in Moscow.
July 3, 2003: Yury Shchekochikhin , liberal lawmaker and investigative journalist, dies of a mysterious allergic reaction. Many believe it was a case of deliberate poisoning, but the incident was never investigated as a murder.
February 13, 2004: Former acting Chechen President Zelimkhan Yandarbiyev is killed in an explosion in Doha, Qatar. Two Russian security-service agents are later convicted of carrying out the killing.
September 2, 2004: Investigative journalist Anna Politkovskaya falls ill mysteriously on a plane bound for the North Caucasus. Politkovskaya was heading to Beslan, North Ossetia, in a bid to negotiate the release of schoolchildren being held hostage there by Chechen militants.
December 2004: Former Ukrainian Prime Minister Viktor Yushchenko , running for president as a pro-Western candidate against Prime Minister Viktor Yanukovych, is poisoned. He recovers and goes on to win the presidency, although his poisoning remains a mystery.
October 7, 2006: Investigative journalist and vocal critic of Russian policies in the North Caucasus Anna Politkovskaya is gunned down in Moscow.
November 23, 2006: Former Federal Security Service agent Aleksandr Litvinenko, a vocal critic of Russia's secret services, dies of a mysterious poisoning in London.
CHRONOLOGY
An annotated timeline
of high-profile killings in Russia since the collapse of the Soviet Union.
SUBSCRIBE
For news and analysis on Russia by e-mail,
subscribe to "RFE/RL Russia Report."