Russian Church Accuses Vatican Of 'Unfriendly Policy'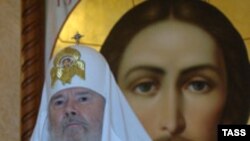 Russian Orthodox Patriarch Alexy II (file photo) (ITAR-TASS) December 5, 2006 -- The head of the Russian Orthodox Church has accused the Vatican of pursuing an "unfriendly policy" in Russia and other former Soviet republics.
Patriarch Alexy II reiterated claims that Catholic priests were working to convert people baptized as Orthodox Christians to Catholicism and discriminating against the Orthodox in western Ukraine.
The Vatican has rejected the proselytizing accusations. The conflict, among other disagreements, has prevented the heads of the two churches from meeting.
(AP, ITAR-TASS)