Russian Soldier Killed In Chechnya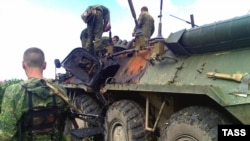 Russian soldiers remove bodies from an armored personnel carrier that came under attack this July (ITAR-TASS) December 8, 2006 -- The Russian military say one of its soldiers in Chechnya was killed and another seven wounded by a roadside bomb late on December 7.
The troops were traveling in a Russian military vehicle outside the Chechen capital, Grozny, when the bomb exploded.
(AP)



RFE/RL's complete coverage of Russia's war-torn Republic of Chechnya.
CHRONOLOGY
An
annotated timeline
of the Chechnya conflict.