NATO spokesman Major Dominic Whyte said today that the orders, printed on leaflets, were dropped by air on the guerrillas' positions in the Panjwayi and Zahre districts of southern Kandahar Province on December 15.
The move was part of a major new anti-Taliban offensive launched on December 14 in the two heavily Taliban-dominated districts.
Hundreds of troops with the NATO-led International Security Assistance Force, helped by Afghan forces, kicked off the operation on December 14 to clear the way for much-needed reconstruction work in the war-torn areas, which have seen heavy Taliban fighting this year.
The new operation has been code-named Operation Baaz Tsuka.
ISAF carried out its biggest-ever operation in mid-September in the same region. More than 1,000 rebels were killed in the two-week Operation Medusa.
In other news, a roadside blast has killed one NATO soldier and wounded two others in eastern Afghanistan. A NATO statement said the explosion occurred in the Mehtar Lam district of Laghman Province on December 15. The statement did not identify the nationalities of the dead and wounded soldiers.
Most NATO troops in the country's east are American. Separately, a NATO soldier was wounded today when he stepped on a land mine while conducting a patrol with Afghan forces near Kandahar city.
(AFP, AP, dpa)
The Afghan Insurgency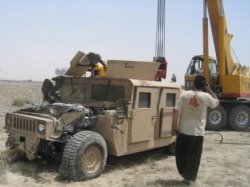 A U.S. military vehicle damaged by insurgents near Kandahar (epa)
HOMEGROWN OR IMPORTED? As attacks against Afghan and international forces continue relentlessly, RFE/RL hosted a briefing to discuss the nature of the Afghan insurgency. The discussion featured Marvin Weinbaum, professor emeritus of political science at the University of Illinois at Urbana-Champaign, and RFE/RL Afghanistan analyst Amin Tarzi.
LISTEN
Listen to the entire briefing (about 83 minutes):
Real Audio
Windows Media
ARCHIVE
RFE/RL's
coverage of Afghanistan
.
SUBSCRIBE
For weekly news and analysis on Afghanistan by e-mail,
subscribe to "RFE/RL Afghanistan Report."