It was the second time detectives questioned Kovtun, a former Russian security officer who met with Litvinenko in a London hotel on November 1, the day he fell ill.
Litvinenko, a fierce critic of President Vladimir Putin, died on November 23 of poisoning with the radioactive substance polonium-210. In a deathbed statement, Litvinenko accused Russian President Vladimir Putin of ordering his killing.
Kovtun and Andrei Lugovoi, another former Russian security agent also present at the London meeting, were also contaminated with polonium-210. Both are currently being treated in a Moscow clinic.
Help Or Hindrance?
Britain has asked Russia to offer assistance to the investigators it sent to Moscow to probe Litvinenko's death. But concern is rising over what many see as Russia's attempt to obstruct Britain's murder probe. Russia is carrying out its own parallel investigation alongside that of Scotland Yard.
"The Times" newspaper quotes security sources as saying Russian investigators have refused to ask Kovtun and Lugovoi questions requested by the British team.
Michael Binyon, a senior commentator at the British daily "The Times," told RFE/RL's Russian Service that Moscow's interference in the case is clear.
"It's evident that the Russians are putting up all sorts of barriers and that the police who are making their investigations in Moscow really are not likely to get anywhere unless they have free access to all the people they want to question without any restrictions," Binyon said.
In an article published today, "The Times" quotes security sources as saying that Russian investigators have refused to ask Kovtun and Lugovoi questions requested by the British team. The article describes Russian Prosecutor-General Yury Chaika as having "hijacked" the investigation into Litvinenko's death.
Theories Abound
More than three weeks after Litvinenko's death, speculation is still rife over who could have ordered his killing.
Yury Shvets, a former Russian secret service agent and a business associate of Litvinenko's, told the BBC on December 16 that Litvinenko's killing is retribution for selling to a British firm a damaging file about a powerful Moscow figure and potential business partner.
Shvets, who is based in Washington, says he believes Lugovoi is still working for the Russian security services and leaked the information to the unnamed figure.
"I cannot really be 100 percent sure, but I am pretty sure," Shvets told the BBC. He said Litvinenko asked him for help to provide confidential information on five Russians for the British company.
This allegation is likely to rile Moscow authorities.
In rare comments on the case by a top Russian official, Defense Minister Sergei Ivanov told foreign correspondents at a dinner late on December 15 that Litvinenko never had access to important information that could have compromised high-placed officials.
Ivanov, a former deputy director of the Russian Federal Security Service (FSB), described Litvinenko as a lowly ex-prison guard with no training and "not much intellect."
"For us, Litvinenko was nothing," he added. "We didn't care what he said and what he wrote on his deathbed."
Aleksandr Litvinenko: A Timeline
Aleksandr Litvinenko: A Timeline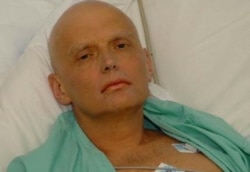 CLOAK AND DAGGER: A timeline of a murder case that unraveled after Andrei Litvinenko, a former Russian security officer and vocal Kremlin critic, dies on November 23, 2006, of poisoning by radioactive isotope polonium-210.
In a deathbed letter, Litvinenko blames Russian President Vladimir Putin for his death -- a claim Putin condemns.
Investigators center on two meetings in London that Litvinenko had described -- one in which he met with two Russians for tea in London, and another in which he met with a third Russian at a sushi bar.
Six months later, British prosecutors announce they have enough evidence to charge a Russian citizen -- one of the men who had met with Litvinenko for tea -- with the murder ...more...
MORE: Coverage in Russian from RFE/RL's Russian Service.
ARCHIVE
RFE/RL's English-language coverage of
Russia
.
SUBSCRIBE
For news and analysis on Russia by e-mail,
subscribe to "RFE/RL Russia Report."