Serbia Begins Rebuilding TV Tower Destroyed By NATO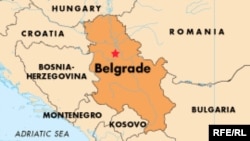 (RFE/RL) December 21, 2006 -- Construction began today to rebuild the television tower on the outskirts of the Serbian capital, Belgrade, that was destroyed by NATO air strikes in 1999.
NATO struck the 200-meter-tall tower to silence Serbian state-run television as part of its campaign to stop a Serb crackdown on ethnic Albanian separatists in Kosovo.
Plans to rebuild the tower began in 2000, but work on clearing rubble from the site started only last year.
(AP)