Putin, speaking at the beginning of the meeting, told Yushchenko the two sides should work out a "joint plan of actions" for the next two years.
"I'm glad to have the opportunity, especially before the New Year celebrations, to visit Kyiv and exchange ideas with you about the development of our relations and what we can do to coordinate this work and make it effective in the future," Putin said. "I even have certain ideas and I would like to talk with you about working out a joint plan of actions for the next two years."
Russian presidential aide Sergei Prikhodko said the leaders will discuss issues such as energy, both countries' bids to join the World Trade Organization, and a proposed Single Economic Space.
A Russian Foreign Ministry statement said that the main objective of Putin's visit is to "deepen trust and predictability between our two nations."
Yushchenko told Interfax-Ukraine on December 21 that Russia and Europe are equally important in Ukraine's foreign policy.
This year, Yushchenko's pro-Western Orange coalition fell apart and his pro-Moscow rival Viktor Yanukovych became prime minister.
Putin last met with Yushchenko in Kyiv in March 2005.
(dpa, AFP, Interfax)
RFE/RL Exclusive Interviews
RFE/RL Exclusive Interviews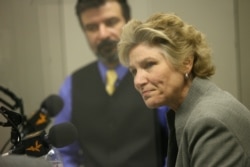 U.S. Undersecretary of State Karen Hughes being interviewed by RFE/RL in Prague on June 11 (RFE/RL)
AT THE MICROPHONE. RFE/RL frequently conducts in-depth interviews with leading newsmakers and analysts from throughout its broadcast region. Transcripts of many of these interviews have been gathered on a special archive page.
Recent Highlights:
Romanian President Traian Basescu | On EU aspirations
Georgian Integration Minister Giorgi Baramidze | On Georgia's relations with NATO, EU
U.S. Ambassador to the IAEA Gregory Schulte | On Iran's nuclear program
Kyrgyz Foreign Minister Alikbek Jekshenkulov | On relations with Uzbekistan
Former Ukrainian President Leonid Kuchma | On the return to power of Viktor Yanukovych