The Union of Democratic Forces of Turkmenistan said in its appeal that Nurmammedov disappeared after leaving his home in Ashgabat.
Relatives contacted Turkmen law enforcement agencies, but those agencies said they had no information about the disappearance.
The Union of Democratic Forces of Turkmenistan nominated Nurmammedov, a founder and leader in the unregistered Agzybirlik movement, as its candidate for president in February elections.
Other Turkmen opposition groups -- the Republican and Vatan parties -- nominated former Central Bank chief Khudaiberdy Orazov as a presidential candidate.
Turkmen authorities have not registered either man for the February 11 poll.
Saparmurat Niyazov, 1940-2006
Saparmurat Niyazov, 1940-2006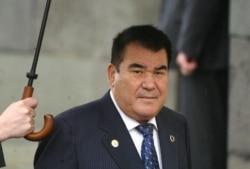 Turkment President Saparmurat Niyazov (bymedia.net)

ERA OF UNCERTAINTY. The death of Turkmen President Saparmurat Niyazov ends an era and begins a period of great uncertainty in Turkmenistan....(more)
RELATED ARTICLES
Could Niyazov's Death Lead To Political Struggle, Instability?
President's Death Brings Muted World Reaction
Energy Analyst Discusses Impact Of Niyazov's Death
Niyazov's Death Prompts Integration Hopes, Gas Worries In Russia
ARCHIVE
RFE/RL's coverage of
Turkmenistan
.