The leader of the opposition Ata-Meken (Fatherland) party, Omurbek Tekebaev, said that while the president chooses candidates for the CEC chairperson, parliament confirms or rejects that candidate.
CEC spokesperson Nina Mukhina said there is no reason acting CEC Chairwoman Aichurek Ishimova cannot remain at her post.
"[According to the law] the chairperson of the Central Commission for Elections and Referendums is appointed by the president and confirmed by parliament," Mukhina said. "The president also appoints one-half of the members of the Central Commission for Elections and Referendums. The law does not say that an acting chairperson has no right to hold elections. There is no such clause in the law, so it is allowed."
Kyrgyzstan is not scheduled to hold any elections next year, but the adoption of a new constitution last month raises the possibility of early parliamentary elections sometime in 2007.
Meanwhile, parliament today approved the candidacy of 111 of 115 proposed judges. The naming of new judges for Kyrgyzstan's court system is an attempt to strengthen the judiciary branch, which was greatly weakened under former President Askar Akaev.
Understanding Kyrgyzstan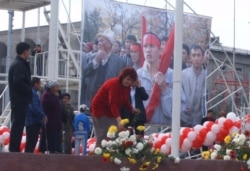 Workers preparing for celebrations of the constitutional compromise in Bishkek on November 9 (RFE/RL)


A STABLE FOUNDATION? On November 9, RFE/RL's Washington office hosted a briefing featuring RFE/RL Kyrgyz Service Director Tyntchtykbek Tchoroev and RFE/RL analyst Daniel Kimmage.
LISTEN
Listen to the complete discussion (about 80 minutes):

Real Audio
Windows Media
RELATED ARTICLES
Parliament Adopts Constitution Curtailing Presidential Powers
Crisis Deepens After President Proposes Constitutional Changes
Bishkek Prepares For Large Opposition Rally