Pro-presidential parliamentary deputies have tried to introduce proposals that would give back to the president some of the powers lost when the new constitution was adopted.
Opposition lawmaker Muratbek Mukashev said demonstrations would be held early next year if there are further attempts to amend the constitution and if deputies vote for Kyrgyzstan to join the World Bank-sponsored Heavily Indebted Poor Countries (HIPC) program.
"In January or February 2007, we plan to begin a political action, not limited in time, in defense of the current constitution and against Kyrgyzstan's joining the [HIPC] program," Mukashev said. "We are against khan-like authority in Kyrgyzstan and against joining countries that are unable to govern themselves independently. The time has come for each of us to come to the defense of our country and the new constitution."
The new constitution was pushed through amid a huge demonstration in the capital in Bishkek in early November.
Relations between the president and parliament were further strained after the adoption of the new constitution. Prime Minister Feliks Kulov and the government resigned last week in part as a response to the political battling caused by the adoption of the new constitution.
Understanding Kyrgyzstan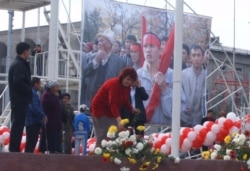 Workers preparing for celebrations of the constitutional compromise in Bishkek on November 9 (RFE/RL)


A STABLE FOUNDATION? On November 9, RFE/RL's Washington office hosted a briefing featuring RFE/RL Kyrgyz Service Director Tyntchtykbek Tchoroev and RFE/RL analyst Daniel Kimmage.
LISTEN
Listen to the complete discussion (about 80 minutes):

Real Audio
Windows Media
RELATED ARTICLES
Parliament Adopts Constitution Curtailing Presidential Powers
Crisis Deepens After President Proposes Constitutional Changes
Bishkek Prepares For Large Opposition Rally