The statement says that if not all conditions are met the government will reserve the right not to join the program, or to withdraw from it "without any negative consequences" for Kyrgyzstan's economy.
Kulov's government, which has been negotiating with the World Bank since November 29, says it expects a final agreement to be reached "around" March 2007.
There is no consensus in Kyrgyzstan on whether the country should join HIPC.
A large number of parliamentarians are against the program.
Some critics fear HIPC may give the World Bank to much weight in the economy. Others argue that it may divert the government's attention from poverty-reduction programs.
Kulov's office today says joining HIPC should help Kyrgyzstan write off more than one-third of its $2 billion external debt.
(Kabar, AKIpress, 24.kg)
Understanding Kyrgyzstan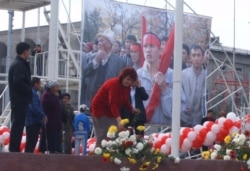 Workers preparing for celebrations of the constitutional compromise in Bishkek on November 9 (RFE/RL)


A STABLE FOUNDATION? On November 9, RFE/RL's Washington office hosted a briefing featuring RFE/RL Kyrgyz Service Director Tyntchtykbek Tchoroev and RFE/RL analyst Daniel Kimmage.
LISTEN
Listen to the complete discussion (about 80 minutes):

Real Audio
Windows Media
RELATED ARTICLES
Parliament Adopts Constitution Curtailing Presidential Powers
Crisis Deepens After President Proposes Constitutional Changes
Bishkek Prepares For Large Opposition Rally