Former Afghan King Reported Ill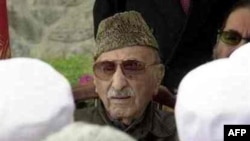 Former king Mohammad Zahir Shah in Kabul in 2002 (AFP) January 2, 2007 (RFE/RL) -- Mohammad Zahir Shah, the 92-year-old former monarch whose deposal ushered in decades of bloodshed before his credibility furthered a UN-backed renewal plan for Afghanistan in 2001, is reportedly too ill to attend meetings.
Zahir Shah's grandson and spokesman, Mustafa Zahir, told RFE/RL's Radio Free Afghanistan that the illness is linked with age.

Zahir Shah remains in bed under the care of doctors.

"We are hoping that he will feel better but at this age it's natural to feel good one day and not so good the next day," Mustafa Zahir said. "I want to assure people not to worry."

Zahir Shah holds no power but was given the symbolic role of "Father of the Nation" after returning from exile in Italy in 2002.

He was king for more than 40 years before being overthrown in a bloodless leftist coup led by a cousin in 1973. [Afghan Historical Chronology]
Zahir Shah's reign (1933-73) is recalled by many Afghans as a period of peace and security. The constitution that he introduced in 1964 is widely regarded as an enlightened effort to usher in reforms that conservative elements fiercely resisted.

(with additional Reuters reports)
RFE/RL Afghanistan Report

SUBSCRIBE For regular news and analysis on Afghanistan by e-mail,
subscribe to "RFE/RL Afghanistan Report."